Sweet Wine Halloween 2021
This year I'm pouring Sauternes by the glass from a 3-Liter Jeroboam bottle from Chateau d'Arche on Sunday night to reward the adults with a sweet treat–why let the kids have all the candy!?
Waverly Inn, starting at 5pm, 10/31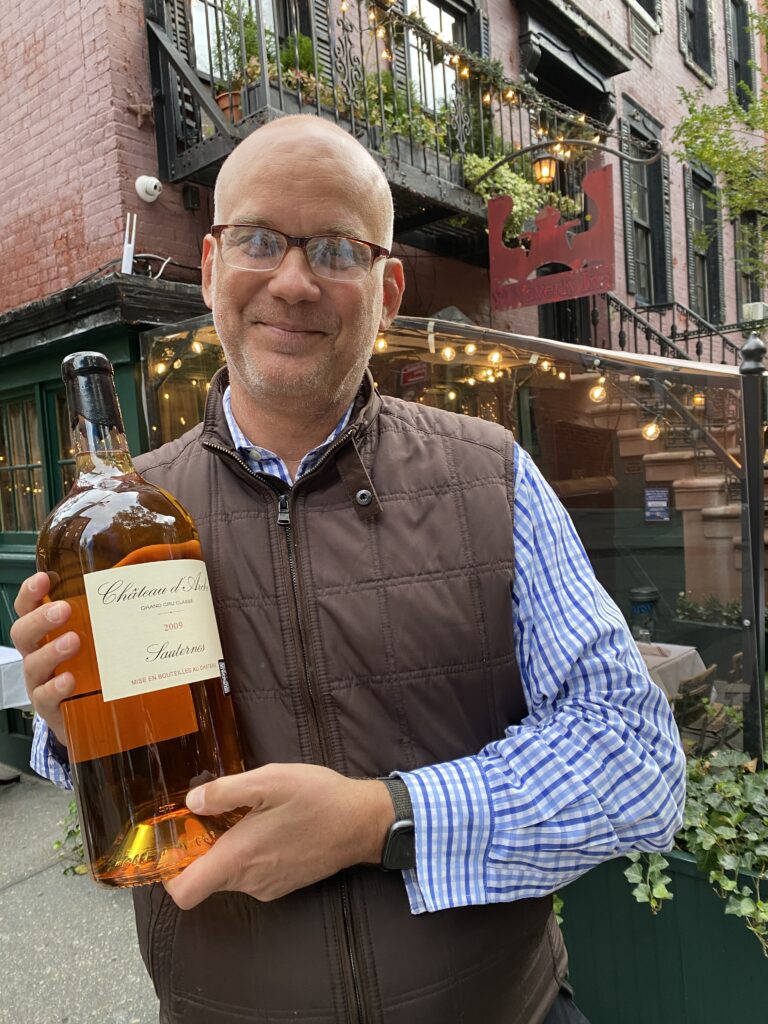 More #SweetWineHalloween shenanigans:
@grapechic chiming in with sweet sherry from her trip to Spain.
Vineyard Brands telling us about Chateau Climens.
Renee-Nicole Kubin and Nopa San Francisco poured sweet cider and 1966 Rivesaltes!
Sweet Wine Halloween Participants from 2020, Thank You!
See below for more info but here is who is playing along last year, serving a sweet wine for Halloween or teaching us about #sweetwine on social media via #SweetWineHalloween:
Chateau Climens in Sauternes/ Barsac is counting down the days!
Gonzalez Byass Sherry gets in the game.
Mas d'en Gil in Priorat makes a rare sweet Grenache!
Gabriela Davogustto at Clay Restaurant in Harlem
Jacqueline Malenda at Madiran Wine Bar in Long Island, NY
Will & Sarah at Tannat Wine Bar in upper Manhattan
Stefanie Schwartz at Portale Restaurant in Chelsea, NYC
Linas Kuklerius at Amandus Restaurant in Vilnius, Lithuania
Wines of Austria explaining their sweet wines
Chateau de Monbazillac in Bergerac
Vineyards Brands on Warre's Port
Years ago I wrote an article about having sweet wine for an adult Halloween. The idea being that instead of donning a costume and heading out for candy, we sit back and indulge in a luxurious world-class sweet wine, and soak up the history and geography held in a glass of Tokaji, Sauternes, or Madeira.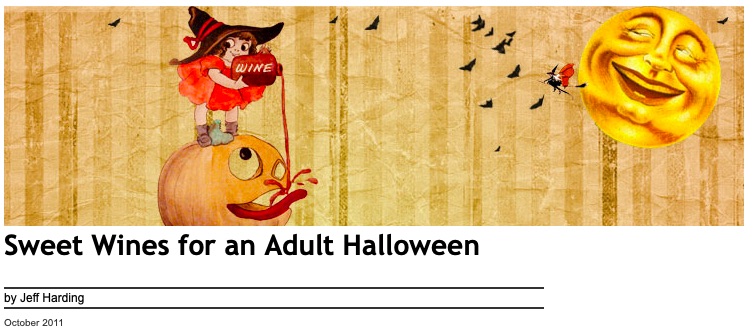 Then last year I opened a bunch of bottles and invited people to pop into the Waverly Inn to sample a few. We are located in the West Village in NYC, so it's always Halloween madness, but this was for wine lovers, with a view of the young at heart in their costumes. And Berenice Lurton, owner of Chateau Climens happened to be in town, so she came by to lend the tasting some street cred. it was a fabulous success so I want to re-create that party, but with pandemic restrictions in mind, and all over the world.
What I have in mind:
–whatever you do on social media use #sweetwinehalloween
-wine directors who are back at work, open something special and offer it by the glass
-wine lovers of any type, open something and post it on social media
-wine producers, participate via social media, whether an informative or fun post or online
seminar, a costume relative to your history, a suggestions for a pairing, really anything
-retailers, host a costume contest or tasting, promote sweet wine with prime locations
distributors and importers, participate with a social media post, sponsor a contest, etc
I do think it's fun to relate a wine to something you could make into a costume:
-Madeira/US founding father
-Sauternes or Monbazillac/one of three musketeers
-Commandaria/Templar Knight
-Pedro Ximenez/Spanish Pirate
-Tokaji/France or Russia royal court member or king/queen
Please let me know your ideas/plans and I'll post here and we can share inspiration!
Check out what other people are doing with sweet wine for Halloween on Instagram